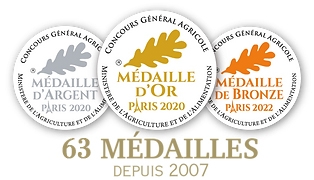 Jean Larnaudie's Expertise is rooted in the Lot in Quercy for over 60 years. Their team of dedicated individuals are committed to regional expertise and passionate about Foie Gras, a dish that has become a holiday season staple.
The Best Foie Gras France has to Offer, Jean Larnaudie: The French People's Choice
As a purveyor of the finest French delicacies, we at Répertoire Culinaire are excited to introduce you to Jean Larnaudie, a Loste Tradi – France owned company, and their superior quality products.
Jean Larnaudie is a family-owned business located in the heart of the South-West of France. Their commitment to quality has led them to become the largest producer of foie gras in France. Their products are sought after by the most discerning chefs and gourmands around the world.
What sets Jean Larnaudie apart is their dedication to traditional methods of production. Their ducks are raised in the open air, fed on the best quality corn, and treated with care and respect. They are then hand-fed to ensure the highest quality foie gras. Jean Larnaudie uses a unique slow cooking method, which ensures that their foie gras is cooked to perfection, with a meltingly tender texture and a rich, buttery flavor.
Quality Is At The Core
Quality is at the core of Jean Larnaudie's job, as high quality raw materials are essential to prepare a good Foie Gras. They work closely with their suppliers to continuously improve the quality of their recipes. Jean Larnaudie pays special attention to the quality of their raw materials and selection of their Foie Gras in order to provide exceptional products. Their expertise is passed down from generation to generation, and they are always looking for new flavors to enhance their Foie Gras and ensure customer satisfaction.
Regional Know How
The company is dedicated to preserving the expertise of the South West of France, where Foie Gras is still largely manually produced. Their staff is trained by elders who transfer their experience to keep the regional know-how alive.
Protected Geographical Indication
Jean Larnaudie's Foie Gras is made with ducks raised and processed in the South West of France, as guaranteed by the South West Protected Geographical Indication (PGI). Their ducks are raised outdoors and fed quality food that is controlled and regulated. Production is carried out in accordance with South West tradition.
Since 2007, Jean Larnaudie's Foie Gras has been presented in competitions to showcase their expertise and product quality. They have won 63 medals to date.
Jean Larnaudie's commitment to quality extends beyond their foie gras. They also produce other duck products, such as duck confit and rillettes, all made with the same care and attention to detail.
When you choose Jean Larnaudie's foie gras, you are choosing a product that has been recognized by the French people as the best foie gras France has to offer. Jean Larnaudie has won numerous awards over the years, including the prestigious "Saveur de l'Année" award in 2021, which recognizes the best food products in France.
At Répertoire Culinaire, we believe that the quality of the products we offer is paramount. We know that our customers value the very best, and that's why we are proud to offer Jean Larnaudie's superior quality products. We have worked closely with Jean Larnaudie for many years, and we know that they share our commitment to excellence.
If you are looking for the finest French delicacies, look no further than Jean Larnaudie. With their commitment to tradition, their dedication to quality, and their passion for excellence, Jean Larnaudie is the perfect choice for the discerning gourmand. Try their foie gras and other duck products today, and discover why they are the French people's choice.
We are always searching for the finest products to offer our customers. We are proud to partner with Jean Larnaudie, a company that shares our values and commitment to excellence. Contact us today to learn more about our range of Jean Larnaudie products and how we can help you create the perfect culinary experience.